Meet Amanda Gorman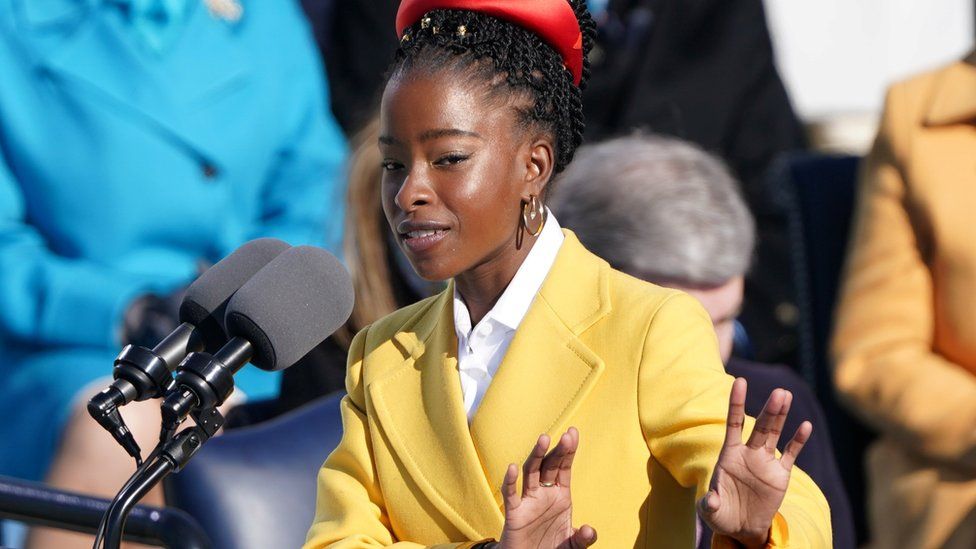 Meet Amanda Gorman, the youngest inaugural poet in U.S. history (she is 22). Since 2017, she has served the United States as the first ever National Youth Poet Laureate, but this morning, she was launched further into the public spotlight when she recited a poem during President Biden's inauguration ceremony. Gorman joins only 5 other poets (including Maya Angelou and Robert Frost) to deliver an inaugural poem. Read excerpts of the other poems here: poets.org
Her poem, titled "The Hill We Climb," is a new poem she wrote with the intention to "speak to the moment" and "do this time justice".
Portions of it read:
We've seen a force that would shatter our nation rather than share it,
Would destroy our country if it meant delaying democracy.
And this effort very nearly succeeded.
But while democracy can be periodically delayed,
It can never be permanently defeated...

For there is always light,
If only we're brave enough to see it,
If only we're brave enough to be it.
Gorman does not yet have any published volumes of poetry available, but you can pre-order any of her forthcoming books below.
Learn more about Amanda at her website: theamandagorman.com

$15.99

ISBN: 9780593465271
Availability: On Our Shelves Now
Published: Viking Books - March 30th, 2021
"An Inaugural Poem for the Country" will be released March. 30, 2021

---

$18.99

ISBN: 9780593203224
Availability: On Our Shelves Now
Published: Viking Books for Young Readers - September 21st, 2021
---

$24.99

ISBN: 9780593465066
Availability: Coming Soon - Available for Pre-Order Now
Published: Viking Books - December 7th, 2021
---