El juego de Ender / Ender's Game (SAGA DE ENDER / ENDER QUINTET #1) (Paperback)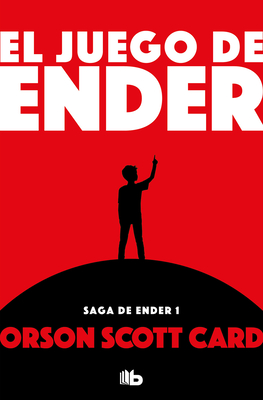 $14.95
OUT-OF-PRINT & UNAVAILABLE! (But email us to search for a used copy.)
Other Books in Series
This is book number 1 in the SAGA DE ENDER / ENDER QUINTET series.
Description
---
La novela más famosa de ciencia ficción moderna: un clásico indiscutible, ganadora de los premios Hugo, Nebula y SF Chronicle.
La Tierra se ve amenazada por una raza extraterrestre, los Insectores, que se comunican telepáticamente y consideran no tener nada en común con los humanos, a quienes pretenden destruir. Para vencerlos es necesario una nueva clase de genio militar, y por ello se ha permitido el nacimiento de Ender, lo que constituye, en cierta forma, una anomalía, pues es el tercer hijo de una pareja en un mundo que ha limitado estrictamente a dos el número de descendientes. El niño Ender deberá aprender todo lo relativo a la guerra en los videojuegos y en los peligrosos ensayos de batallas espaciales que realiza con sus compañeros. A la habilidad en el tratamiento de las emociones, ya característica de Orson Scott Card, se une en este libro el interés por el empleo de las simulaciones por ordenador y los juegos de fantasía en la formación militar, estratégica y psicológica del protagonista. 
 
Reseñas:

«El gran libro de ciencia ficción para adolescentes que no leen ciencia ficción, principalmente porque no habla de robots sino de niños contra adultos.» - El diario.es 
 
«Una historia con acción e ideas que incluso los no lectores devorarán con avidez.» -iPulp Fiction
 
ENGLISH DESCRIPTION

In order to develop a secure defense against a hostile alien race's next attack, government agencies breed child geniuses and train them as soldiers. A brilliant young boy, Andrew "Ender" Wiggin lives with his kind but distant parents, his sadistic brother Peter, and the person he loves more than anyone else, his sister Valentine. Is Ender the general Earth needs?
About the Author
---
Orson Scott Card obtuvo el premio Hugo 1986 y el Nebula 1985 con El juego de Ender, cuya continuación, La voz de los muertos, consiguió de nuevo dichos premios, siendo la primera vez en toda la historia de la ciencia ficción que un autor los obtenía dos años consecutivos. La seriecontinuó con Ender el xenocida, Hijos de la mente, Guerra de regalos y Ender en el exilio. En 1999 apareció un nuevo título, La sombra de Ender, seguido por La sombra de Egemón, Marionetas de la sombra, La sombra del gigante y Sombras en fuga. También han sido un gran éxito su serie sobre Alvin Maker, el Hacedor, iniciada con El séptimo hijo, y la llamada Saga del Retorno, iniciada con La memoria de la tierra.