A Cup of Silver Linings (Dove Pond Series #2) (Hardcover)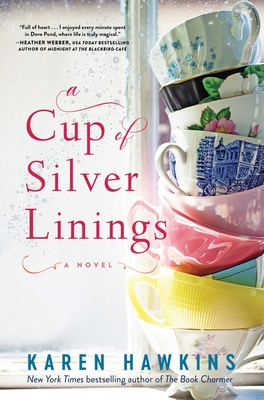 Other Books in Series
This is book number 2 in the Dove Pond Series series.
Get a SIGNED & PERSONALIZED copy of the book! PLUS a teapot charm metal bookmark! Author Karen Hawkins lives locally and will sign your book to whatever inscription you specify when ordering.
Description
---
New York Times bestselling author Karen Hawkins returns to her beloved Dove Pond series with another "mesmerizing fusion of the mystical and the everyday" (Susan Andersen, New York Times bestselling author)—but this time, the magic is in the tea leaves.

Ava Dove—the sixth of the seven famed Dove sisters and owner of Ava Dove's Landscaping and Specialty Teas—is frantic.

Just as she is getting ready to open her fabulous new tearoom, her herbal teas have gone wonky. Suddenly, her sleep-inducing tea is startling her clients awake with vivid dreams, her romance-kindling tea is causing people to blurt out their darkest secrets, and her happiness tea is making them spend hours staring into mirrors.

At the same time, Ava's newest employee's—sixteen-year-old Kristen Foster—life has just come crashing down around her. After her mother's death, her grandmother arrived in town to sweep her off to a white mansion on a hill in distant Raleigh. Kristen is desperate to stay with her friends in Dove Pond, but to do so means she must undertake a quest she's been avoiding her entire life—finding her sperm donor father.

With the help of an ancient herbal remedy book, Ava realizes Kristen holds the key to fixing her unstable tea leaves. So she throws herself into Kristen's search, even convincing Kristen's grandmother to help, too. Together, the three embark on a reluctant but magical journey of healing, friendship, and family that will delight fans of Alice Hoffman, Kate Morton, and Sarah Addison Allen.
About the Author
---
New York Times and USA Today bestselling author Karen Hawkins writes novels that have been praised as touching, witty, charming, and heartwarming. A native Southerner who grew up in the mountains of East Tennessee where storytelling is a way of life, Karen recently moved to frosty New England with her beloved husband and multiple foster dogs. The Dove Pond series is a nod to the thousands of books that opened doors for her to more adventures, places, and discoveries than she ever imagined possible. To find out more about Karen, check in with her at Facebook.com/KarenHawkinsWriter, @KarenHawkinsAuthor on Instagram, and at her website, KarenHawkins.com.