Viscera (Paperback)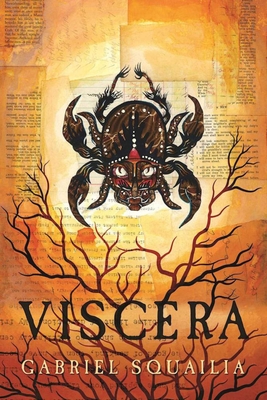 $15.99
OUT-OF-PRINT & UNAVAILABLE! (But email us to search for a used copy.)
Staff Reviews
---
Bookseller: Zazu
Title: Viscera
Comments:
An incredible new novel from the same bottomlessly creative mind as Dead Boys (local author and Berkshires' beloved DJ BFG), comes a story so weird yet so compelling, so wild yet so heartfelt, so different yet so relatable, that your heart and mind will feel wrenched in directions you never even knew existed--GOOD directions!
I am so glad this story is finally being told, in all its fantastic, gory, poignant details.
Read it!
— From
Zazu's Past Picks 2
Description
---
"[Viscera] is dark, weird, and wonderfully human, and I cannot recommend it enough. It's far and away the weirdest, most original thing you will read this year, and Gabriel Squailia gives it heart that matches its entrails beat-for-beat."
—B&N Sci-Fi & Fantasy Blog

The Gone-Away gods were real, once, and taller than towers.

But they're long dead now, buried in the catacombs beneath the city of Eth, where their calcified organs radiate an eldritch power that calls out to anyone hardy enough to live in this cutthroat, war-torn land. Some survivors are human, while others are close enough, but all are struggling to carve out their lives in a world both unforgiving and wondrous. Darkly comic and viciously original, Viscera is an unforgettable journey through swords-and-sorcery fantasy where strangeness gleams from every nook and cranny.

Skyhorse Publishing, under our Night Shade and Talos imprints, is proud to publish a broad range of titles for readers interested in science fiction (space opera, time travel, hard SF, alien invasion, near-future dystopia), fantasy (grimdark, sword and sorcery, contemporary urban fantasy, steampunk, alternative history), and horror (zombies, vampires, and the occult and supernatural), and much more. While not every title we publish becomes a New York Times bestseller, a national bestseller, or a Hugo or Nebula award-winner, we are committed to publishing quality books from a diverse group of authors.
About the Author
---
Gabby Squailia, writing as Gabriel Squailia, is an author and professional DJ from Rochester, New York. An alum of the Friends World Program, she studied storytelling and literature in India, Europe, and the Middle East before settling in the Berkshires of western Massachusetts with her partner and daughter. Squailia's first novel, Dead Boys, was published by Talos Press in 2015; Viscera followed in 2016.
Praise For…
---
Praise for Viscera: "EXCELLENT . . . unlike anything I've read recently. A novel of great imagination and even greater characters." —Kirkus Reviews/The Book Smugglers, 9/10 "Are you looking for a fantasy novel with a vivid and bloody setting and a sly, haunting mood? Are you hungry for a book with righteously queer and trans characters dealing with trauma and loss, hope and resistance? Do you yearn to read about an adventuring party made up of two drug addicted fortune-worshipers, a pacifist immortal, a murderous puppet, and a witch with her zombie-bear butler? Then read this novel. It's amazing." —Nerds of a Feather, 9/10

"Exquisitely imagined, deeply insightful yet scathingly witty, Viscera barrels along at a scorching pace after vividly realized characters whose separate quests—for identity, for revenge, for release—find themselves on a collision course in a world that's simultaneously both grimdark and surreal. Lusciously weird and utterly unique."
—Nicole Kornher-Stace, author of Archivist Wasp

"Viscera is a work of gleeful weirdness, set in a world that calls to mind China Miéville's Bas-Lag novels, and full of characters fighting to reshape themselves and their destinies, in search of deep and resonant truth."
—Kat Howard, author of Roses and Rot

"In Squailia's world, trees can act as a living internet, the calcified organs of dead gods lie under a city and respond to spilled blood with earthquakes, and having your major organs removed is not necessarily fatal. Identity shifts and slides as characters attempt to shape themselves and are shaped by their swiftly changing circumstances. To what extent, Viscera asks, does who we are lie in our bodies, and to what extent does it lie in our actions?"
—John Langan, author of The Fisherman

"The world is seething with the grotesque and fantastic, and gender fluidity is explored to heartbreaking effect."
—Publishers Weekly

"With prose that is both lovely and grisly, Squailia's sophomore effort leads the reader through an ambitious and gritty fantasy world filled with cannibals, blood thirsty rulers, and animated dead. Fans of fantasy with finely textured worlds will enjoy this book, provided they have strong stomachs for gore and profanity."
—Booklist

"It takes a brave and immensely talented writer to concoct a dystopian fantasy of earthquakes, killing fields, drug addiction, and routine eviscerations that is also profoundly humane and laugh-out-loud funny. It sounds impossible, I know, but Gabriel Squailia has done it. Viscera is ultimately a story of self discovery, of being who you know yourself to be down deep in your gut even when the world wants to tell you otherwise. There is extreme ignorance and savagery in Viscera's fictional universe, but there is kindness and healing too—just like the world we know."
—Camille DeAngelis, author of Bones & All

"The most delicious kind of nightmare, Viscera is gorgeous, theatrical, and weird as hell. Squailia's voice, the world they weave with it, and the eminently human characters they build will linger long after reading."
—Phoebe North, author of Starglass

Praise for Dead Boys:
"If China Miéville, Neil Gaiman and Hunter S. Thompson had a ménage à trois, Dead Boys would be the lovechild. A cracking book."
—Jay Kristoff, author of Stormdancer

"A macabre, madcap picaresque full of fast-talking corpses and philosophical skeletons. Squailia's super-charged prose swings from bone-crunching action to meditations on the meaning of life and the mysteries of death. It's an exuberant mashup."
—Brendan Mathews, author of The World of Tomorrow

"Original, fresh, and fascinating . . . I have found the sleeper hit of 2016 and it is full of guts." —Bogi Reads the World

Praise for Viscera: "EXCELLENT . . . unlike anything I've read recently. A novel of great imagination and even greater characters." —Kirkus Reviews/The Book Smugglers, 9/10 "Are you looking for a fantasy novel with a vivid and bloody setting and a sly, haunting mood? Are you hungry for a book with righteously queer and trans characters dealing with trauma and loss, hope and resistance? Do you yearn to read about an adventuring party made up of two drug addicted fortune-worshipers, a pacifist immortal, a murderous puppet, and a witch with her zombie-bear butler? Then read this novel. It's amazing." —Nerds of a Feather, 9/10

"Exquisitely imagined, deeply insightful yet scathingly witty, Viscera barrels along at a scorching pace after vividly realized characters whose separate quests—for identity, for revenge, for release—find themselves on a collision course in a world that's simultaneously both grimdark and surreal. Lusciously weird and utterly unique."
—Nicole Kornher-Stace, author of Archivist Wasp

"Viscera is a work of gleeful weirdness, set in a world that calls to mind China Miéville's Bas-Lag novels, and full of characters fighting to reshape themselves and their destinies, in search of deep and resonant truth."
—Kat Howard, author of Roses and Rot

"In Squailia's world, trees can act as a living internet, the calcified organs of dead gods lie under a city and respond to spilled blood with earthquakes, and having your major organs removed is not necessarily fatal. Identity shifts and slides as characters attempt to shape themselves and are shaped by their swiftly changing circumstances. To what extent, Viscera asks, does who we are lie in our bodies, and to what extent does it lie in our actions?"
—John Langan, author of The Fisherman

"The world is seething with the grotesque and fantastic, and gender fluidity is explored to heartbreaking effect."
—Publishers Weekly

"With prose that is both lovely and grisly, Squailia's sophomore effort leads the reader through an ambitious and gritty fantasy world filled with cannibals, blood thirsty rulers, and animated dead. Fans of fantasy with finely textured worlds will enjoy this book, provided they have strong stomachs for gore and profanity."
—Booklist

"It takes a brave and immensely talented writer to concoct a dystopian fantasy of earthquakes, killing fields, drug addiction, and routine eviscerations that is also profoundly humane and laugh-out-loud funny. It sounds impossible, I know, but Gabriel Squailia has done it. Viscera is ultimately a story of self discovery, of being who you know yourself to be down deep in your gut even when the world wants to tell you otherwise. There is extreme ignorance and savagery in Viscera's fictional universe, but there is kindness and healing too—just like the world we know."
—Camille DeAngelis, author of Bones & All

"The most delicious kind of nightmare, Viscera is gorgeous, theatrical, and weird as hell. Squailia's voice, the world they weave with it, and the eminently human characters they build will linger long after reading."
—Phoebe North, author of Starglass

Praise for Dead Boys:
"If China Miéville, Neil Gaiman and Hunter S. Thompson had a ménage à trois, Dead Boys would be the lovechild. A cracking book."
—Jay Kristoff, author of Stormdancer

"A macabre, madcap picaresque full of fast-talking corpses and philosophical skeletons. Squailia's super-charged prose swings from bone-crunching action to meditations on the meaning of life and the mysteries of death. It's an exuberant mashup."
—Brendan Mathews, author of The World of Tomorrow

"Original, fresh, and fascinating . . . I have found the sleeper hit of 2016 and it is full of guts." —Bogi Reads the World