Africa in Global Power Play: Debates, Challenges and Potential Reforms (Hb) (Hardcover)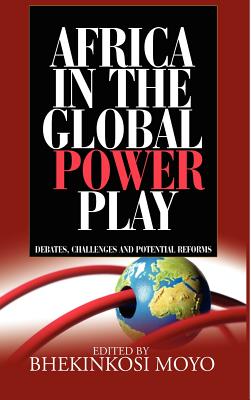 $71.10
Email or call for price.
Description
---
Africa in Global Power Play: Debates, Challenges and Potential Reforms is a compilation of insightful and analytical articles that were published in different issues of the journal, African Renaissance, between 2004 and 2006. Most of the articles are from established academics, researchers, development practitioners and policymakers as well as stakeholders in Africa. Though the perspectives are as varied as the contributions, the underlining themes are the current scramble for Africa and the various development trajectories vis- -vis those of other regions of the world. Contributors also address the continuous interactions and inevitable contradictions between Africa and the rest of the world. The various contributions seek answers to a number of fundamental questions around Africa's position in the global political economy, focusing on such areas as international economic relations, political and economic reforms, democratic transitions and consolidations, human rights and security. Though contributions show that Africa faces enormous challenges in the global political economy, they also point to the current dynamism and optimism in many parts of the continent. ______________________________________________ Bhekinkosi Moyo is currently based in Dakar, Senegal, where he conducts and manages research for TrustAfrica: a grant-making foundation focusing on regional integration, peace and security as well as citizenship and identity. His research interests include Africa's political economy, international political economy, global governance, social movements and democratisation in Africa. His recent publications include China in Africa: Threat or an Asset? (2006), The Zimbabwean Community in South Africa (with Elinor Sisulu and Nkosinathi Tshuma) and Africa and the World: 2004-2005. "This book is a compelling study of the many imponderable dilemmas, challenges and imperatives that shape the contours of Africa's place in a mercurial and uncertain global order. It brings together a range of authors who reflect on the many themes that animate the African condition, in the context of the multiple centrifugal tendencies, intense structural asymmetries and disempowering pathologies that characterise globalisation. Africa in Global Power Play is an invitation to critically engage in this existential debate and is a sterling contribution to the subject." Dr. Garth le Pere Director, Institute for Global Dialogue, South Africa.