Cricut Para Principiantes: Guía paso a paso sobre cómo dominar su Cricut Explore Air 2. Consejos y trucos, funciones y ejemplos prácticos para su (Hardcover)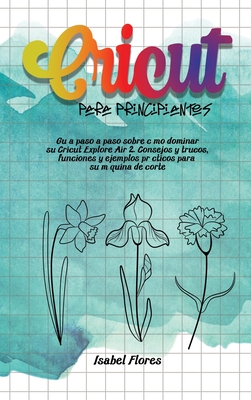 $36.97
UNAVAILABLE: Backordered or Out-of-Print (But email us to search for a used copy.)
Description
---
★ 55% OFF for Bookstores NOW at $ 36.97 instead of $ 46.97 LAST DAYS ★
Do you want to create amazing projects at home with your cricut machine?
If you have a Cricut machine, get familiar with it. Learn more about it and see for yourself some of the fun things you can do with Cricut, and the cool basic projects you can try now.
Like with many crafting projects and types, it is possible to go overboard on spending on accessories, materials, and more. Thankfully, that does not have to be the case and we have many money-saving tactics that will allow you to make even more projects in less time As you get more familiar with your Cricut and with the community of users, we're confident you'll find what works for you and what products are best left to the Cricut brand, and what items you can replace with more cost-effective options.
Don't get me wrong, there are faults in the Cricut machines. But in all fairness, there are also more hits than misses, and I will discuss them all in the chapters to come. Perhaps you may even pick up some tips and tricks to avoid the flaws completely and get the very best out of your apparatus.
Now, if you are asking, "How do I choose my Cricut machine?", I've got you covered, dear reader. Based on this, you will have no trouble at all when it comes to choosing your Cricut that suits your specific needs. It can be as easy as going through the list.
Through this Bundle You Will Learn:
- Understanding of Cricut
- Models of Cricut
- Materials of Cricut
- Design Space Crafts
- How To Start ?
- Canvas Overview
- Cricut Project Ideas
- Materials And Types Of Projects
- Tips and Tricks
- Easy Projects
And much more
★ 55% OFF for Bookstores NOW at $ 36.97 instead of $ 46.97 LAST DAYS ★
You will Never Stop Using this Awesome Cookbook
Buy it NOW and get addicted to this amazing book