Cricut Maker Para Principiantes: Una Guía Rápida Para Aprender A Usar Su Máquina Cricut Y A Sacar Lo Mejor De Cricut Design Space (Hardcover)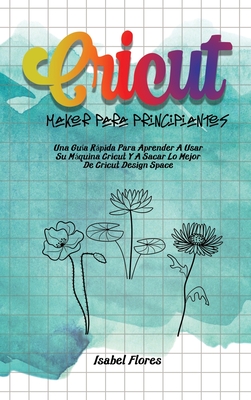 $36.97
UNAVAILABLE: Backordered or Out-of-Print (But email us to search for a used copy.)
Description
---
★ 55% OFF for Bookstores NOW at $ 36.97 instead of $ 46.97 LAST DAYS ★
Do you want to know everything about the cricut Machine?
The following chapters will discuss what the Cricut is, how you can use it like a professional, and how to make it work for you Within these chapters, you'll get recommendations on the best products to use, the best tools, and even guides on projects that will help get you started on using your Cricut There are simple and complex DIY projects that the reader can try at home or any place of convenience using this amazing machine.
Tweak the ideas in this book to fit you perfectly. Change up the materials, the blanks, what the design is, and whatever else your imagination can come up with. Create your own projects, as well. Following the ideas in this book will give you a good foundation for using your Cricut. Once you've become familiar with it in the different ways that you can use it, you can let your creativity flow and create whatever you want.
Through this Bundle You Will Learn:
- Models
- What Is Cricut?
- Tools You Need for Cricut
- Things You Need to Know About Cricut
- Cricut Machines: Quick Overview
- How Does the Cricut Work?
- Setup or Software for Your Cricut
- What Can You Do With Cricut?
- Let's Make One Simple Cricut Project
- Cricut Projects
And many more
★ 55% OFF for Bookstores NOW at $ 36.97 instead of $ 46.97 LAST DAYS ★
You will Never Stop Using this Awesome Cookbook
Buy it NOW and get addicted to this amazing book