Sous Vide: The Complete Cookbook! Best Sous Vide Recipes For Everyone Made Simple (Paperback)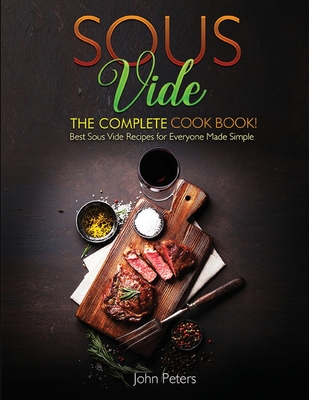 $21.99
Usually Ships in 2-7 Days
Description
---
The Ultimate Sous Vide Cookbook - Discover the Beauty and Perfection of Sous Vide Cooking
Do you want to learn the best-kept secrets of high-end restaurants?
Have you heard about Sous Vide cooking but are not sure how to do it?
DON'T WORRY THIS BOOK REVEALS IT ALL FINALLY, YOU CAN COOK YOUR FOOD LIKE A PRO CHEF
Sous vide is a cooking technique that used to be reserved only for pros. Today, with sous vide cooking machines becoming available to everyone, you too can make fabulous sous vide recipes.
So what is sous vide cooking?
It comes down to temperature. Sous vide cooking uses very precise temperatures to cook your food to perfect consistency, every time. The food is placed in a sealed bag and cooked in a water bath. Sounds complicated? It really isn't If you choose the right sous vide cooking machine, the process becomes even more simple than everyday cooking techniques
In this cookbook, you will learn:
What is Sous vide and how it works
What do you need to start cooking Sous vide
How to choose the best temperatures
Recipes for meat, veggies, and seafood
Ways to prepare sauces and infusions
Tips for the best desserts you can imagine
AND A SPECIAL BONUS - WAGYU SOUS VIDE RECIPES
Sounds a bit overwhelming? Once you learn the basics and get the machine, you will see that Sous vide cooking is actually super easy. And forget easy, it's super delicious, every time. Now you can really impress your friends Don't forget the bonus section, with the history of Wagyu breed and some amazing Sous vide recipes for Wagyu. This will be the best steak you ever tried. And the best part? Homemade
Ready to cook like a pro? Get Your Copy Today