Tallarn (The Horus Heresy #45) (Paperback)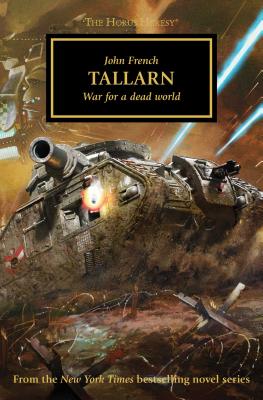 $18.00
Email or call for price.
Other Books in Series
This is book number 45 in the The Horus Heresy series.
Description
---
The greatest tank battle in the history of the Horus Heresy!

As the Warmaster's campaign of galactic domination continues, Horus' generals seek out fresh battlefields to conquer. After leaving the Crone World of Iydris behind, Perturabo strikes for Tallarn. A bitter, vengeful primarch, the lord of the Iron Warriors unleashes a deadly bombardment against the world, killing millions but entrenching the survivors. A brutal, all-consuming armoured conflict ensues, the greatest of the war, and one that grinds down all combatants over more than a year of relentless battles. But Perturabo's reasons for the attack are about more than unleashing punitive destruction against the Imperium - he has an entirely darker purpose in mind.
About the Author
---
John French is the author of several Horus Heresy stories including the novels The Solar War, Praetorian of Dorn, Tallarn and Slaves to Darkness, the novella The Crimson Fist, and the audio dramas Dark Compliance, Templar and Warmaster. For Warhammer 40,000 he has written Resurrection, Incarnation and Divination for The Horusian Wars and three tie-in audio dramas – the Scribe award-winning Agent of the Throne: Blood and Lies, as well as Agent of the Throne: Truth and Dreams and Agent of the Throne: Ashes and Oaths. John has also written the Ahriman series and many short stories.