I Give You My Word: Letters as Life Support, 1973 - 1978 (Paperback)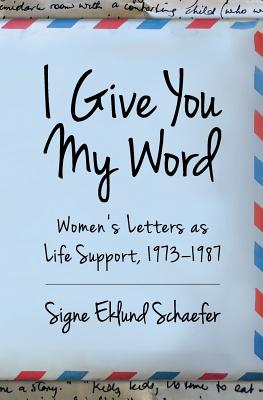 Description
---
-- A forgotten box of letters in a dark attic corner, messages from women friends written decades ago --
-- An intimate record of a time of great transition in how women experienced their daily lives and imagined their future --
During the 1970's and 80's, Signe Eklund Schaefer and her young family moved often, within the United States and abroad. Handwritten letters, now relics of a pre-Internet world, were vital to her ongoing connection with friends and to her evolving sense of self. From the surprising discovery of these old letters she has woven a moving account of the reflections, mutual support and multi-dimensional exchanges between women friends, which offer a record of women's lives five decades ago, and speak powerfully to contemporary social concerns.
Exploring relationships, motherhood, children, personal development, career and friendship itself, the letters touch on the emerging women's movement, efforts for world peace, and individual spiritual striving. The Epilogue offers new letters from these articulate and impassioned women, now in their 70's and 80's.
Signe Eklund Schaefer is the author of Why on Earth? -- Biography and the Practice of Human Becoming. She served on the faculty of Emerson College in England and directed Foundation Studies at Sunbridge College in New York for more than twenty years.