The Hour of Death: A Sister Agatha and Father Selwyn Mystery (Hardcover)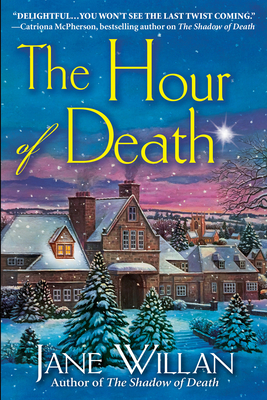 Staff Reviews
---
Bookseller: Linda
Title: The Hour of Death
Comments:
Is Sister Agatha getting better at sleuthing because of listening to her podcasts OR getting more & more experience reading people? You too can become a detective-keep your notebooks, pocket knife & cell phone in your apron pocket-oh, and don't forget plastic bags for 'evidence'!
With references to Miss Marple, Stephanie Plum & Inspector Gamache, you get the idea Sister Agatha is all business. But with the whole Abbey of nuns, Father Selwyn and residents of the town, the murder investigation has MORE twists & turns.
Did I mention humor with all the complex characters? I am now. And don't forget there is high drama with chase scenes.
— From
Linda's Past Picks - 5
Description
---
Jane Willan's The Hour of Death will be a Christmas delight for fans of G. M. Malliet, set on an island in Wales.

Sister Agatha and Father Selwyn make sleuthing a work of art. But will they paint themselves into a corner when they investigate the Village Art Society president's death?

As Yuletide settles upon Gwenafwy Abbey, the rural Welsh convent's peace is shattered when Tiffany Reese, president of the Village Art Society, is found dead on the floor of the parish hall. Sister Agatha, whose interests lie more with reading and writing mystery stories than with making the abbey's world-renowned organic gouda, is not shy about inserting herself into the case. With the not-entirely-eager assistance of Father Selwyn, she begins her investigation.

Sister Agatha has no shortage of suspects to check off her naughty-or-nice list, until finally, Tiffany's half-brother, Kendrick Geddings, emerges as the prime suspect. There never was any love lost between Tiffany and Kendrick, and of late they had been locked in a vicious battle for control of the family estate. But if Sister Agatha thinks she has the case wrapped up, she'll have to think again.

As the days of Advent tick by, Sister Agatha is determined to crack the case by Christmas in The Hour of Death, Jane Willan's perfectly puzzling second Sister Agatha and Father Selwyn Mystery.
About the Author
---
Jane Willan wants to live in a world where everyone has time to read their favorite books, drink good coffee and walk their dog on the beach, but until that can happen she enjoys life as a pastor and writer. When she's not working on a sermon, or hiking with her husband, Don, you can find her re-reading Jane Eyre, binge-watching Downton Abbey and trying out new ways to avoid exercise. This is her second Sister Agatha and Father Selwyn mystery.
Praise For…
---
Praise for The Hour of Death:
"Willan's loving and witty portrayal of convent life in rural Wales will delight lovers of village mysteries. Besides, who doesn't enjoy reading about a busload of nuns riding to the rescue on Christmas Eve?"
—Publishers Weekly

"Charming...Peopled with plenty of interesting characters and local color."
—Kirkus Reviews

The Shadow of Death:
"Sprightly...The rich life and personalities of this religious community, coupled with Sister Agatha's devotion to the sage advice of a retired inspector turned podcaster, guarantee reader impatience for the next installment."
―Publishers Weekly

"You'll be rooting for Sister Agatha and Father Selwyn all the way in this delightful tale. And you won't see the last twist coming."
—Catriona McPherson, bestselling and multi-award-winning author of A Most Misleading Habit

"A delightful cozy with a feisty heroine who heads off on a wing and a prayer to solve the mysterious death of the abbey's sexton. Set against an enchanting Welsh backdrop, this charming cozy will have you glued to the page."
―Peg Cochran, USA Today bestselling author

"In the tradition of the Father Brown and Grantchester mysteries, Sister Agatha demonstrates that a cloistered life is not without danger."
―Alice K. Boatwright, author of the award-winning Ellie Kent mysteries

"Pour yourself a nice cup of warm Glengettie tea and prepare to be immersed in this delicious and charming story about a feisty Anglican nun, a small Welsh convent and an accidental death...that might just be murder. Sister Agatha is sure to appeal to fans of that other great Agatha."

―Susan Breen, author of the Maggie Dove mystery series