Surface Pro 7 User Guide For Older Adults: Beginners to Expert Guide for Older Adults to Master Your New Microsoft Surface Pro 7 in 3 Hours! (Paperback)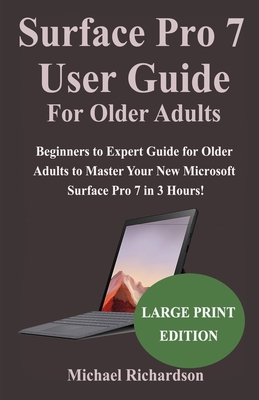 $11.99
OUT-OF-PRINT & UNAVAILABLE! (But email us to search for a used copy.)
Description
---
If you're new to Microsoft Surface products especially the Surface Pro series, there are many things you should know about.
This is an easy reference guide to using your Microsoft Surface Pro 7-- to the max
The Microsoft Surface Pro 7 is the new flagship that's not lacking in innovation or ambition. The design of the new Microsoft Surface Pro 7 has changed a lot compared to its previous generations. It now sports a fluid surface Pen and a host of other cool features to give you the most experience. After unboxing your shiny new Microsoft Surface Pro 7, there's a whole lot to learn about the device. And this handy book will help you get the maximum bang for your Microsoft Surface Pro 7.
The tips and tricks in this guide will help you maximize the ownership of your device.. You will learn about the best settings you need to change on your brand new Microsoft Surface Pro 7 to make it better. In this Guide, you will see all our published tips, tricks, and tutorials over time since the product was announced.
This is a must-have book to get for any Surface Pro 7 who wants to take their device to the next level and get more out of their tablet.