The Sorcerer's Appendix: A Brothers Grimm Mystery (Brothers Grimm Mysteries) (Paperback)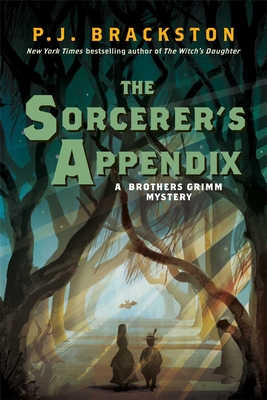 Description
---
When Gretel—yes, that Gretel, now all grown up and working as a private investigator—takes on the case of a missing sorcerer, she doesn't realize that it will take her into the heart of the deep, dark woods, and face to face with an old enemy . . .

Gretel has never had any time for sorcerers, considering them nothing more than show-offs with questionable fashion sense. It is with some reluctance and a deal of grumpiness, then, that she agrees to look into the matter of a murdered magician. All that is left of him is a grisly remnant, which the police quack confirms is the murdered man's appendix. What has become of the rest of him is baffling the local constabulary, the Sorcerers' Society, and, not least, the hapless trickster's widow.

As Gretel delves into the facts behind his disappearance she discovers no shortage of suspects. In fact, just about everyone she meets had reason for wanting the odious man dead. Her only clue points in one disturbing direction: the deep dark forest. So it is that Gretel, with a reluctant Hans as porter, must trek into the woods of her childhood trauma, braving all manner of discomforts and dangers—not least of which is a terrifying reminder of her past.
About the Author
---
P.J. Brackston is the author of the New York Times bestseller The Witch's Daughter; The Winter Witch; and Nutters. She has an MA in Creative Writing from Lancaster University and is a Visiting Lecturer for the University of Wales, Newport. Brackston lives in Wales with her partner, Simon, and their two children.
Praise For…
---
If you love a tongue-in-cheek mystery (and who doesn't?) you really need to try The Sorcerer's Appendix. The Sorcerer's Appendix pokes fun at fairy tales and mysteries alike, but it's also a serious whodunit.


Bestseller Brackston's comic mystery series set in a Grimm fairy tales version of 18th-century Bavaria hits its stride with this often hilarious fourth entry. The wry humor is a delight.

A nice change of pace for mystery readers. Fantasy with a touch of wry.

An adventure that unrepentantly defies history and follows up a beloved tale with farce. This fourth series entry features a resourceful but not entirely lovable heroine, zany secondary characters, and the tendency to go for cheap laughs. Still, give Brackston high marks for creativity.

This spoof of Brothers Grimm fairy tales will have readers laughing out loud.

Delightfully witty vignettes matched with a solid plot…a real charmer. This looks to be a wonderful mystery series, something truly different and enjoyable to read. Check it out.