The Divan of Hafiz: Edition of Complete Poetry (Paperback)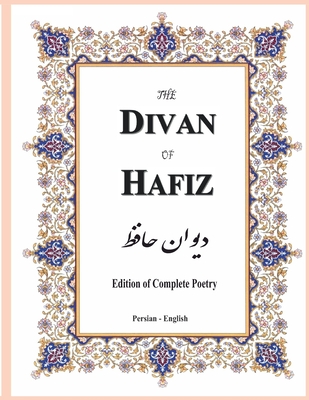 $22.99

Usually Ships in 2-7 Days
(This particular book is non-returnable)
Description
---
Join with Hafiz and His Incomparable Love Poems
If like me, you too fall in this trip,
Hold the wine and cup upon your lap.
We are the lovers, burning our tracks,
Join us if you can put up with the crap.
گر همچو من افتاده ی این دام شوی ای بس که خراب باده و جام شوی
ما عاشق و رند و مست وعالم سوزیم با ما منشین اگرنه بدنام شوی
Shamsuddin Mohammad Hafiz Shirazi (1320-1389), the great lyric Persian poet is known for his ghazals. He has published about 500 ghazals and 42 Rubaiyees. The most popular Persian book, Divan-e Hafez, is a pinnacle of Persian literature and is to be found in the homes of most Iranian people, who learn his poems by heart and still use them as proverbs and sayings. Hafiz's poems of intimate divine love spread through the East in his lifetime, then into the West. Adaptations, imitations, and translations of Divan-e Hafez exist in all major languages.
The translation appearing in this book is by Henry Wilberforce Clarke (1840 - 1905). The Clarke's word-by-word translation fully conveys the Persian original. All Hafez's ghazals are provided in this bilingual book in Persian and English languages. This book can be useful for Persian and English language speakers and enjoyable for poetry lovers of any age.
Divan-e Hafiz is a precious learning resource for Persian language learners or Persian literature students. Not only will poems improve your Persian language, but they'll help your understanding of Persian culture and literature. Students will have ample opportunities to enrich their Persian learning experience and extend a range of language abilities through exploring these ghazals and poems.
A Great Gift for Persian Poetry Lovers
Published By:
Persian Learning Center
www.persianbell.com