The Bone Season (Paperback)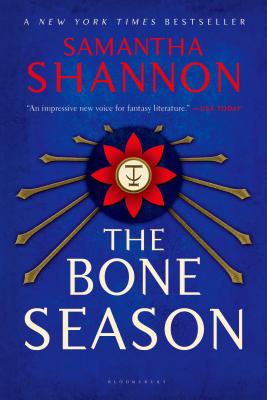 $17.00
OUT-OF-PRINT & UNAVAILABLE! (But email us to search for a used copy.)
Staff Reviews
---
Bookseller: Zazu
Title: The Bone Season (Bone Season #1)

Comments:
After being held hostage by this book's incredible sequel for two days straight, I couldn't help regretting not having Staff Picked this book when I initially read it. I admit the only reason was that the first 30 pages or so felt unedited to the point of annoying the stubborn, snobby editor in me. But I fully consider it worth getting past those first few pages to enjoy what proves to be a great writer spinning a gripping, enthralling, enchanting mystery that questions modern religious and spiritual taboos and status quos.
Part alternate history fantasy, part political thriller, this dystopian (which actually takes place now-ish, as opposed to the usual imagined far flung future) will leave you exhilarated and yearning for more... thank the "zeitgeist" it's just the first in a planned 7 book series!
— From
Zazu's Past Picks 1
September 2013 Indie Next List
---
"Samantha Shannon has created a world that will set your imagination on fire and lure you in so absolutely you will forget your surroundings. You will also be elated to learn this is the first in a 7-book series. Fictional London in the year 2059 is the world of Paige Mahoney, a dreamwalker. Scion is the ruling government. They absolutely reject any type of clairvoyant abilities. If they find you have those skills, you disappear. Paige discovers this is true, but the disappearance is not what she has been led to believe. Mind-bendingly intense, rife with fascinating characters and an all-encompassing plot, The Bone Season will take you on one wild ride. -- Lynn Riggs Books & Company"
— Lynn Riggs, Books & Company, Oconomowoc, WI
Description
---
The first pick of NBC's Today Book Club
Featured in New York, USA Today, and Forbes, and on CNN.com.
It appeared on every summer reading list for 2013, from Entertainment Weekly to USA Today. Now, the debut that thrilled readers everywhere is available in paperback. Enter the world of Paige Mahoney, a gifted clairvoyant, a "dreamwalker," in the year 2059. Her natural talents are considered treasonous under the current regime. Snatched away to a secret prison, she encounters another race, the Rephaim, creatures who wish to control the powers of Paige and those like her. One in particular will be assigned as her keeper, her trainer. But his motives are mysterious. To regain her freedom, Paige must learn to trust, in the prison where she is meant to die.
About the Author
---
Samantha Shannon was born in West London in 1991. She started writing at the age of fifteen and graduated from St. Anne's College, Oxford, with a degree in English language and literature in 2013. The Bone Season is her first novel and has been sold in twenty-one countries. It is being developed for film by Andy Serkis and Jonathan Cavendish at Imaginarium Studios.Follow Samantha Shannon on Twitter at @say_shannon and on her blog, www.samanthashannon.co.uk
Praise For…
---
"Terrific—intelligent, inventive, dark, and engrossing . . . Shannon has remarkable talent for world-building . . . But her most sublime otherworldly creation is the complex, ever evolving, scrappy yet touching Paige Mahoney . . . [She] has me hooked." —NPR.com
"Invokes both the political tyranny of George Orwell and the . . . mythmaking of J.R.R. Tolkien." —USA Today
"Action-filled . . . Shannon is likely on the brink of literary stardom." —New York
"[A] dazzlingly brainy, witty, and bewitching tale of outrageous courage, heroic compassion, transcendent love, and the quest for freedom . . . the first in a thoughtful fantasy series by a brilliant young writer." —Booklist (starred review)
"This book is for those who like their dystopian science fiction multilayered, philosophical and complex." —
Kirkus Reviews