The Hungry Ear: Poems of Food and Drink (Paperback)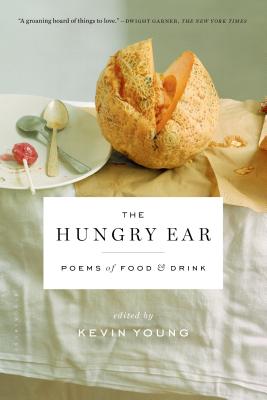 $20.00
OUT-OF-PRINT & UNAVAILABLE! (But email us to search for a used copy.)
Description
---
Food and poetry: in so many ways, a natural pairing, from prayers over bread to street vendor songs. Poetry is said to feed the soul, each poem a delicious morsel. When read aloud, the best poems provide a particular joy for the mouth. Poems about food make these satisfactions explicit and complete.
Of course, pages can and have been filled about food's elemental pleasures. And we all know food is more than food: it's identity and culture. Our days are marked by meals; our seasons are marked by celebrations. We plant in spring; harvest in fall. We labor over hot stoves; we treat ourselves to special meals out. Food is nurture; it's comfort; it's reward. While some of the poems here are explicitly about the food itself: the blackberries, the butter, the barbecue--all are evocative of the experience of eating.
Many of the poems are also about the everything else that accompanies food: the memories, the company, even the politics. Kevin Young, distinguished poet, editor of this year's Best American Poetry, uses the lens of food - and his impeccable taste - to bring us some of the best poems, classic and current, period.
Poets include:
Elizabeth Alexander, Elizabeth Bishop, Billy Collins, Mark Doty, Robert Frost, Allen Ginsberg, Louise Gluck, Seamus Heaney, Tony Hoagland, Langston Hughes, Galway Kinnell, Frank O'Hara, Sharon Olds, Mary Oliver, Adrienne Rich, Theodore Roethke, Matthew Rohrer, Charles Simic, Tracy K. Smith, Gertrude Stein, Wallace Stevens, Mark Strand, Kevin Young
About the Author
---
Kevin Young is the author of seven books of poetry, one book of nonfiction, and the editor of seven other collections, including The Art of Losing. His collection For the Confederate Dead won the Paterson Poetry Prize for Sustained Literary Achievement, and Jelly Roll was a finalist for the National Book Award and the Los Angeles Times Book Prize. Young is the Atticus Haygood Professor of English and Creative Writing and the curator of literary collections and the Raymond Danowski Poetry Library at Emory University in Atlanta.
Praise For…
---
"A groaning board of things to love, from Seamus Heaney on oysters and Lucille Clifton on collard greens to Theodore Roethke on root cellars and Jane Kenyon on shopping at an IGA . . . What a great meal." —Dwight Garner, The New York Times
"This anthology is a feast!" —Library Journal, starred review
"The 'horn of plenty' is an appropriate figure for the anthology, as Young brings to the table a refreshingly flavorful selection of poets." —Booklist
"Here is gustatory poetry for all seasons . . . The taste of milk, the taste of apples, the taste of wine, bread, cheese, the company of loved ones, the prescence of friends, all here, tripping off the tongues of some of the country's, and world's, most gifted poets." —Alan Cheuse, NPR.org