Virtual Organization: Toward a Theory of Societal Transformation Stimulated by Information Technology (Hardcover)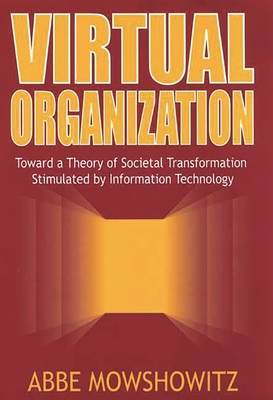 UNAVAILABLE (Reason: out-of-stock indefinitely, backordered, or self-published)
Description
---
Computers mediate between individuals by providing channels of communication in the form of messaging sytems. They act as brokers in matching buyers and sellers, employees and employers, resources and work processes, and so on. The explosive growth of electronic commerce on the Internet has made such functions commonplace. Computer-based mediation and brokerage, along with the expanding role of information technology in the continuing globalization of the economy, has tremendous political, social, managerial, and economic consequences. For managers, and for the concept of organization in general, these consequences manifest themselves most clearly in the Ivirtual organization, R a new paradigm that has been evolving for decades and that is swiftly gathering steam and overtaking traditional organization. Virtual organization is founded on the separation of requirements (for example, inputs such as components) from the ways in which requirements are met, or satisfiers (for example, suppliers and distribution networks). Separating these elements allows managers to switch easily from one way of meeting a requirement to another, by, for example, laying off higher-paid workers in the United States and hiring cheaper labor overseas or south of the border.
Used systematically, switching brings huge increases in productivity, provided that transaction costs are held in check. The price of this increased inefficiency is that, practiced regularly, switching weakens personal, political, and business loyalties. Absent a sense of loyalty to persons or places, virtual organizations distance themselves--both geographically and psychologically--from the regions and countries in which they operate. This process is undermining the nation-state, which cannot continue indefinitely to control virtual organizations. A new feudal system is in the making, in which power and authority are vested in private hands but which is based on globally distributed resources rather than on possession of land. The evolution of this new political economy will determine how we do business in the future. Management scholars, political scientists, policy analysts, sociologists, economists, legal scholars, computer scientists, managers, government professionals, information technology professionals, and even students of philosophy will find Mowshowitz's valuable insights useful in their respective efforts to determine the highly variegated meanings of virtual organization.
About the Author
---
ABBE MOWSHOWITZ is Professor of Computer Science at the City College of the City University of New York and Visiting Professor at the Rotterdam School of Management. He has been thinking and writing about social and organizational issues in computing since the early 1970s. His book The Conquest of Will: Information Processing in Human Affairs (1976) was one of the first systematic studies of computers and society. Mowshowitz became interested in virtual organization (and arguably coined the term) in the late 1970s, and has been delving into its nature and consequences ever since.