All Creatures Great and Small (Audio Cassette)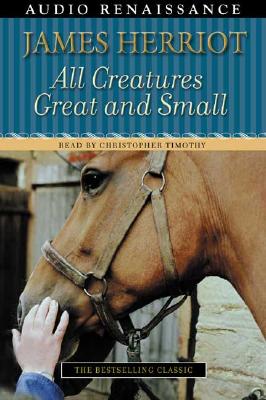 $39.95
UNAVAILABLE: Backordered or Out-of-Print (But email us to search for a used copy.)
Description
---
These are the stories that catapulted James Herriot to literary fame. When this book was first published, it was merely a simple volume of memoirs by an unknown Scottish veterinarian. But within a year, the book became recognized as a masterpiece. And in the three decades that followed, Dr. Herriot became one of the most universally loved authors of our time.
In this first volume of memoirs, then-newly-qualified vet James Herriot arrives in the small Yorkshire village of Darrowby and he has no idea what to expect. How will he get on with his new boss? With the local farmers? And what will the animals think? This program is filled with hilarious and touching tales of the unpredictable Sigfriend Farnon, Sigfreid's zany brother, Tristan, and Herriot's first encounters with a beautiful girl called Helen.
Now as then, "All Creatures Great and Small" is full of humor, warmth, pathos, drama, and James Herriot's love of life. His journey across the Yorkshire dales, and his encounters with humans and dogs, cows, and kittens are lovingly told by Christopher Timothy with all the fascination, affection, and joy that suffuses Dr. Herriot's work.

About the Author
---
James Herriot lived in Yorkshire, England with his wife and family, where his son has now taken over his veterinary practice. He is the author of the classic international bestsellers "All Things Bright and Beautiful, All Things Wise and Wonderful, " and " The Lord God Made Them All." He is also the author of numerous collections of short stories and a series of illustrated books for children. Dr. Herriot died in February 1995.

Reader Christopher Timothy starred as James Herriot in "All Creatures Great and Small," the internationally-renowned BBC television series based on Dr. Herriot's work. A 25-year vetern of stage, screen and TV, Mr. Timothy is winner of the prestigious Sir John Gielgud Scholarship and the Sir Laurence Olivier Award.