A Thousand Small Sanities: The Moral Adventure of Liberalism (Paperback)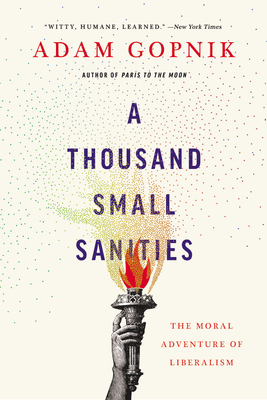 Description
---
A stirring defense of liberalism against the dogmatisms of our time from an award-winning and New York Times bestselling author.
Not since the early twentieth century has liberalism, and liberals, been under such relentless attack, from both right and left. The crisis of democracy in our era has produced a crisis of faith in liberal institutions and, even worse, in liberal thought.
A Thousand Small Sanities is a manifesto rooted in the lives of people who invented and extended the liberal tradition. Taking us from Montaigne to Mill, and from Middlemarch to the civil rights movement, Adam Gopnik argues that liberalism is not a form of centrism, nor simply another word for free markets, nor merely a term denoting a set of rights. It is something far more ambitious: the search for radical change by humane measures. Gopnik shows us why liberalism is one of the great moral adventures in human history -- and why, in an age of autocracy, our lives may depend on its continuation.
About the Author
---
Adam Gopnik is a staff writer at The New Yorker; he has written for the magazine since 1986. Gopnik has three National Magazine awards, for essays and for criticism, and also a George Polk Award for Magazine Reporting. In March of 2013, Gopnik was awarded the medal of Chevalier of the Order of Arts and Letters. The author of numerous bestselling books, including Paris to the Moon, he lives in New York City.
Praise For…
---
A Foreign Affairs Book of the Year, 2019
—
-
"Witty, humane, learned...An elegant discussion."
—
New York Times
"A stirring defense of liberalism's philosophical tradition and continued relevance against its critics on both left and right."
—
Jonathan Chait
"Written with Adam Gopnik's signature wit and charm,
A Thousand Small Sanities
is also a clarion call at a moment of great danger. This fierce, capacious, and startlingly intelligent defense of a whole political, social, and moral order is essential reading for our time."—
Stephen Greenblatt, author of The Swerve: How the World Became Modern
"Adam Gopnik is one of the greatest thinkers and wordsmiths of our age, and this book may be his most masterful, meaningful, and enjoyable yet. He turns his sweeping intellectual imagination into a conversation with a cross-partisan American longing for a renewal of common life that scarcely knows how to name itself. In an age in which we've connected ourselves with scale but without quality, and fractured communal cohesion in part by forgetting our shared liberal inheritance, this book is essential, redemptive reading."
—
Krista Tippett, host, "On Being"
"It's a great book about liberalism. You'll read it in a day. Highly recommended."
—
Chris Hayes
"An elegant, impassioned, and rigorously reasoned effort
to re-humanize the most humanistic moral and political philosophy our
civilization has produced..."
—
Brainpickings
"The longtime
New Yorker
staff writer and prolific cultural critic once again shows his astute awareness of the public's political consciousness in this new work championing 'liberalism.' ... Gopnik's learned, lofty...study ultimately reasserts the belief in the 'infinity of small effect.'"—
Kirkus Reviews
"A smart, exhilarating defense of the liberal tradition."
—
Publishers Weekly, starred review