The Wood Wife (Paperback)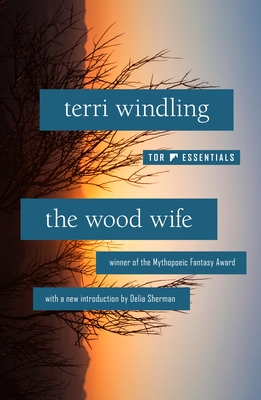 $17.99

Usually Ships in 2-7 Days
Description
---
A Mythopoeic Fantasy Award-winning masterpiece by a nine-time winner of the World Fantasy Award, Terri Windling's The Wood Wife returns to print in a Tor Essentials edition.

Leaving behind her fashionable West Coast life, Maggie Black comes to the Southwestern desert to pursue her passion and he dreams. Her mentor, the acclaimed poet Davis Cooper, has mysteriously died in the canyons east of Tucson, bequeathing her his estate and the mystery of his life--and death.

Maggie is astonished by the power of this harsh but beautiful land and captivated by the uncommon people who call it home--especially Fox, a man unlike any she has ever known, who understands the desert's special power.

As she reads Cooper's letters and learns the secrets of his life, Maggie comes face-to-face with the wild, ancient spirits of the desert--and discovers the hidden power at its heart, a power that will take her on a journey like no other.
About the Author
---
Terri Windling is a writer, editor, artist, and passionate advocate of fantasy literature. She has won six World Fantasy awards for her editorial work and the Mythopoeic Award for her novel The Wood Wife. She has edited over thirty anthologies, many in collaboration with Ellen Datlow--including the Snow White, Blood Red adult fairy-tale series, The Armless Maiden, Sirens, The Green Man, and Swan Sister. She has also written children's books and articles on myth and folklore, and she edits the Endicott Studio Online Journal of Mythic Arts website. She divides her time between homes in Devon, England, and Tucson, Arizona.
Praise For…
---
"A wonderful, elegant fantasy--sensuous, fascinating, and eerily spiritual." —Robert Holdstock, author of Mythago Wood

"Richly imaginative, a captivating mix of traditional fantasy and magical realism." —Publishers Weekly

"This is a novel of muscle and tenderness, of sharp edges and great delights." —Charles de Lint