Color of Lies: A Novel of Cultural and Environmental Conflict (Generation of Secrets #2) (Paperback)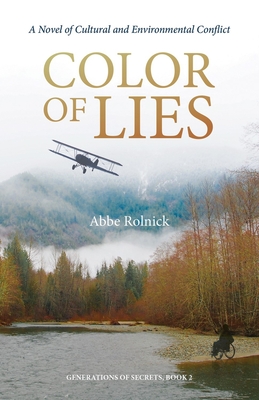 Other Books in Series
This is book number 2 in the Generation of Secrets series.
Description
---
"Rolnick's assertive prose generates a slow, steady pace and even moments of poetry: "Teardrops of sadness were meant to be swallowed so that the oceans would fill with only happy tears." - Kirkus Reviews

In the Skagit River Valley—gateway to the pristine Pacific Northwest wilderness—vegetation, birds, and people are inexplicably dying.

Does the river carry pollutants from illegal waste sites?

One elderly bully's spiteful lies have trapped her victims in a toxic web: JoAnne, a former World War II pilot, is wheelchair-bound from a youthful accident involving sinister secrets. Maria, JoAnne's niece and professional pilot, masks the unresolved pain of childhood abandonment. Spencer, a young organic vintner, suspects the rich valley soil has been polluted by undocumented wastes. Russell, a spunky 95-year-old ham radio buff, intercepts curious messages that provide clues to the decades-long cover-up.

Lies, even the little white lies told to protect themselves and each other from the past, suddenly conspire against them as the valley's secrets unravel. Threatened with exposure, the perpetrator resorts to more malicious behavior, and her victims must join with the community to stop her and save the valley. All must face difficult truths to halt the accumulation of more than one kind of toxic behavior.

This is a story of challenge and triumph over demons both personal and environmental, inviting us to explore with its characters the nature of truth, trust, and accountability.

"Pacific Northwest settings are richly drawn and the plot intricately woven." - Mary Elizabeth, Verified Reviewer

"This story was very engaging and I could not put it down until I finished it." - Kim M, Verified Reviewer



Read the entire Generations of Secrets series:

1. River of Angels, "an absorbing drama with extraordinary characters." (Kirkus)
2. Color of Lies, "a well-researched novel that highlights community."(Kirkus)
3. Founding Stones, "the author's pithy writing helps retain a discernable tension."(Kirkus)
About the Author
---
Abbe Rolnick grew up in the suburbs of Baltimore, Maryland. Her first major cultural jolt occurred at age 15 when her family moved to Miami Beach, Florida. To find perspective, she climbed the only non-palm tree at her condo complex and wrote what she observed. History came alive with her exposure to Cuban culture. After attending Boston University, she lived in Puerto Rico,where she owned a bookstore.

River of Angels flows from her experiences in Puerto Rico and is the first novel in her Generations of Secrets series. She continues with Color of Lies, bringing the reader to the Pacific Northwest where she presently resides. Here she blends stories from island life with characters in Skagit Valley. The third in the series, Founding Stones was recently published and continues with characters from her two previous novels. Her readers describe the series as "deep and meaningful," with "complex relationships" that "transport you to a different place" with "a plot worthy of the cedar-scented NW atmosphere."

Her recent experiences with her husband's cancer inspired Cocoon of Cancer: An Invitation to Love Deeply, a love story that shares intimate tips for caregivers and family. Tattle Tales: Essays and Stories Along the Way is a compilation of twenty years of writing. These two books show a "skill for writing that brings a cluster of sunshine through the dim of darkness," where "you can feel the author's presence."

An avid world traveler, Abbe can be found with her husband Jim in Africa, Southeast Asia, South America, Sri Lanka, the Middle East, and other exotic countries when they aren't at their home amid twenty acres in Skagit Valley, Washington, or visiting with her grown children and grandkids.

To learn more about her writings, Abbe's Notes and Abbe's Ruminations, visit her website, www.abberolnick.com. Abbe welcomes questions and requests for speaking engagements, and would love to hear from you.
Praise For…
---
"Color of Lies is a story of aviation, history, and the interconnectedness of people. It's also an effective environmental "why do it…." Rolnick succeeds in pulling all these themes together with a tight plot that keeps the action moving forward to the ultimate denouement. Highly recommended."  —Peter Stekel, author, Final Flight

"Buried secrets, both literal and metaphorical, come to light when residents of a small town in Washington notice birds dying and other environmental problems . . . Rolnick uses her setting well, making local landscape, industry, and history essential to the plot, not just background . . . A well-researched novel that highlights community."  —Kirkus Review