An Educator's Guide to Steam: Engaging Students Using Real-World Problems (Paperback)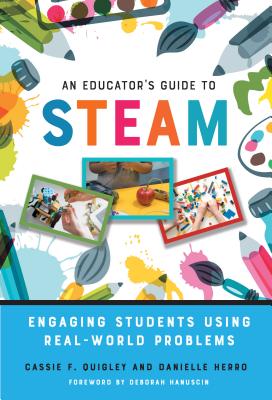 $32.95

Usually Ships in 2-7 Days
Description
---
This practical book will help readers understand what STEAM is, how it differs from STEM, and how it can be used to engage students in K-8 classrooms. The authors present a conceptual model with recommendations and classroom examples illustrating various key aspects of STEAM teaching in action, including creating the correct teaching environment, integrating STEAM content, and supporting students as they develop STEAM-related skills. The model includes specific strategies such as problem-based learning, student choice, technology integration, and teacher facilitation. Each chapter incorporates elements of connected learning--a type of learning that draws on students' interests that teachers can capitalize on when using STEAM to address real-world problems.Readers will find easy-to-understand examples of what STEAM education looks like in a variety of classrooms, and will hear from teachers, instructional coaches, principals, and administrators about what it takes to ensure that STEAM is a schoolwide success.
Book Features:
Straightforward guidance for creating STEAM instructional units for the K-8 classroom.
A concise instructional model that addresses misconceptions about STEAM education.
Extended vignettes demonstrating teaching practices, student learning, and school-community partnerships.
Classroom examples of STEAM learning that rural, urban, traditional, and innovative schools can relate to and build on.
Based on the authors' work with over 150 teachers and analysis of teachers' reflective journal entries, STEAM unit plans, classroom instruction, and more.
About the Author
---
Cassie F. Quigley is an associate professor of science education at the University of Pittsburgh. Danielle Herro is an associate professor of digital media and learning at Clemson University.