KJV Standard Lesson Commentary® Deluxe Edition 2016-2017 (Large Print / Paperback)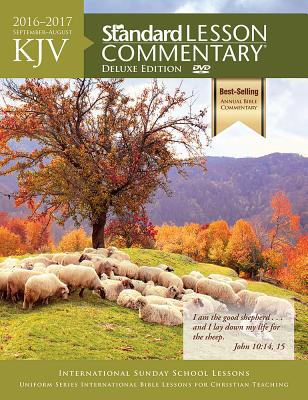 $24.99
OUT-OF-PRINT & UNAVAILABLE! (But email us to search for a used copy.)
Description
---
As the nation's most popular annual Bible commentary for more than two decades, the Standard Lesson Commentary provides 52 weeks of study in a single volume and combines thorough Bible study with relevant examples and questions.

The KJV SLC Deluxe Edition is a large print edition, includes a reproducible activity page for each lesson, and features the eCommentary DVD—with a library of resources valued at more than $450—by WORDsearch Bible Software.

The Standard Lesson Commentary is based on the popular Uniform Series, also called the International Sunday School Lessons.

This series, developed by scholars from several church fellowships, provides an orderly study of the Bible in a 6-year period. Nearly two dozen ministers, teachers, and Christian education specialists provide the Bible commentary, lesson plans, discussion questions, and other features that make the Standard Lesson Commentary the most popular annual Bible commentary available.