Stork Naked: A Tale in the Land of Xanth (Mass Market)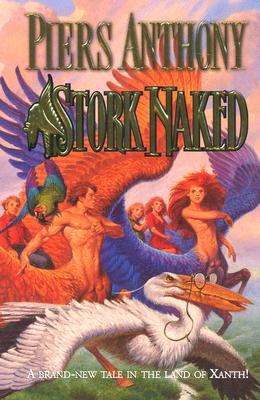 $6.99
UNAVAILABLE: Backordered or Out-of-Print (But email us to search for a used copy.)
Other Books in Series
This is book number 30 in the Xanth series.
Description
---
Surprise Golem has just lost her brand-new baby. The Stork assigned to deliver her eagerly awaited Bundle of Joy has inexplicably refused to surrender it, flying off instead through a hole in the fabric of reality.
Now, to track down her offspring, Surprise must lead an ill-assorted assemblage of confederates on a desperate quest through dozens of different Xanths. But sinister, unseen forces are determined to stop her. And in order to find her child, Surprise may have to lose her heart.
Startling, stimulating, stirring, and surprising, Piers Anthony's Stork Naked is a rollicking and revealing new fantasy adventure lusciously laced with dozens of dangers and delights, lovingly fashioned with all of Piers Anthony's celebrated storytelling skills.
About the Author
---
Piers Anthony is one of the world's most prolific and popular fantasy authors and a New York Times bestseller twenty-one times over. His Xanth novels, including Esrever Doom, Luck of the Draw, and Well-Tempered Clavicle, have been read and loved by millions of readers around the world. While he is best known for his science fiction and fantasy, Anthony incredibly versatile, having also written several novels in other genres, including historical fiction and horror. He lives in Central Florida.
Praise For…
---
"The Xanth books constitute Anthony's longest and most successful series . . . . They are intended to be kind-spirited, fun reading, a series of wondrous beasts and beings, and most of all, an endless succession of outrageous puns" —Lee Killough, Wichita Eagle