The Darkest Part of the Woods (Paperback)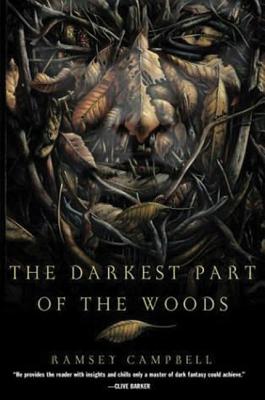 UNAVAILABLE AT THIS TIME (Possible reasons: Backordered, Out-of-Stock Indefinitely, or Print-on-Demand only)
OUT OF PRINT
(This book cannot be returned. It may be a print-on-demand title, or for some other reason)
Description
---
Ramsey Campbell is the world's most honored living horror writer, with more than twenty World Fantasy, British Fantasy, Bram Stoker, and other awards to his credit.

Hailed as one of the most literate and literary writers of our time, in genre and out, Campbell has been acclaimed as a "master of dark fantasy" by Clive Barker, one of today's "finest writers of supernatural horror and psychological suspense" by the Charleston Post & Courier, the "master of a skewed and exquisitely terrifying style" by Library Journal, "one of the world's foremost horror writers" by the San Francisco Examiner-Chronicle, and a "master of mood" by Publishers Weekly.

In The Darkest Part of the Woods, Campbell introduces readers to the Price family, whose lives have for decades been snarled with the fate of the ancient forest of Goodmanswood. Here, Dr. Lennox Price discovered a hallucinogenic moss that quickly became the focus of a cult-and though the moss and the trees on which it grew are long gone, it seems as if the whole forest can now affect the minds of visitors.

After Lennox is killed trying to return to his beloved wood, his widow seems to see and hear him in the trees-or is it a dark version of the Green Man that caresses her with leafy hands? Lennox's grandson heeds a call to lie in his lover's arms in the very heart of the forest-and cannot help but wonder what the fruit of that love will be.

And Heather, Lennox's daughter, who turned her back on her father's mysteries and sought sanctuary in the world of facts and history? Goodmanswood summons her as well . . .
About the Author
---
Ramsey Campbell has won more awards than any other living author of horror or dark fantasy, including four World Fantasy Awards, nine British Fantasy Awards, three Bram Stoker Awards, and two International Horror Guild Awards. Critically acclaimed both in the US and in England, Campbell is widely regarded as one of the genre's literary lights for both his short fiction and his novels. His classic novels, such as The Face that Must Die, The Doll Who Ate His Mother, and The Influence, set new standards for horror as literature.  His collection, Scared Stiff, virtually established the subgenre of erotic horror.
 
Ramsey Campbell's works have been published in French, German, Italian, Spanish, Japanese, and several other languages. He has been President of the British Fantasy Society and has edited critically acclaimed anthologies, including Fine Frights. Campbell's best known works in the US are Obsession, Incarnate, Midnight Sun, and Nazareth Hill.
Praise For…
---
"What distinguishes [this novel] is the suppleness, fluidity, and richly textured elegance of its prose. Campbell's writing has never been better; his etching of character has never been more telling and shrewd; his modulation of the narrative has never been surer." —Weird Tales on Pact of the Fathers


"The world Ramsey Campbell takes for granted is the world of our darkest nightmares. Horrors in his fiction are never merely invented, they are felt and experienced, and affect the reader for days afterward." —Peter Straub, New York Times bestselling author of A Dark Matter