The Friend: A Novel (Paperback)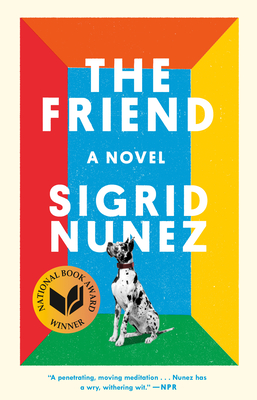 Staff Reviews
---
Bookseller: Ellyne
Title:The Friend
Comments:
This was a joy to read: an adult book with nuance and depth, as well as gentle humor; a book about writing, writers, students and readers.
A woman's best friend commits suicide and we are priviledged to hear her conversations with her departed friend, and the evolution of her relationship with his dog, who, when he dies, she inherits. She lives in Manhattan in a 500sq ft apartment in a building that does not allow pets. The dog is a Great Dane. Imagine.
If you are looking for a book that will bring delight, this is it.
— From
Ellyne
Description
---
WINNER OF THE 2018 NATIONAL BOOK AWARD FOR FICTION

SHORTLISTED FOR THE INTERNATIONAL DUBLIN LITERARY AWARD 

NEW YORK TIMES BESTSELLER

"A beautiful book … a world of insight into death, grief, art, and love." —Wall Street Journal

"A penetrating, moving meditation on loss, comfort, memory...Nunez has a wry, withering wit." —NPR

"Dry, allusive and charming…the comedy here writes itself." The New York Times

A moving story of love, friendship, grief, healing, and the magical bond between a woman and her dog.

When a woman unexpectedly loses her lifelong best friend and mentor, she finds herself burdened with the unwanted dog he has left behind. Her own battle against grief is intensified by the mute suffering of the dog, a huge Great Dane traumatized by the inexplicable disappearance of its master, and by the threat of eviction: dogs are prohibited in her apartment building.

While others worry that grief has made her a victim of magical thinking, the woman refuses to be separated from the dog except for brief periods of time. Isolated from the rest of the world, increasingly obsessed with the dog's care, determined to read its mind and fathom its heart, she comes dangerously close to unraveling. But while troubles abound, rich and surprising rewards lie in store for both of them.

Elegiac and searching, The Friend is both a meditation on loss and a celebration of human-canine devotion.
About the Author
---
Sigrid Nunez is the author of the novels Salvation City, The Last of Her Kind, A Feather on the Breath of God, and For Rouenna, among others. She is also the author of Sempre Susan: A Memoir of Susan Sontag. She has been the recipient of several awards, including a Whiting Award, the Rome Prize in Literature, and a Berlin Prize Fellowship. Nunez lives in New York City.
Praise For…
---
"The contemplation of writing and the loss of integrity in our literary life form the heart of the novel...Nunez's prose itself comforts us. Her confident and direct style uplifts—the music in her sentences, her deep and varied intelligence. She addresses important ideas unpretentiously and offers wisdom for any aspiring writer who, as the narrator fears, may never know this dear, intelligent friend—or this world that is dying. But is it dying? Perhaps. But with The Friend, Nunez provides evidence that, for now, it survives." —The New York Times Book Review

"Charming... the comedy here writes itself... the novel's tone in general, however, is mournful and resonant... The snap of her sentences sometimes puts me in mind of Rachel Cusk." —The New York Times

"In crystalline prose, Nunez creates an impressively controlled portrait of the 'exhaustion of mourning.'" —The New Yorker

"Everywhere in this novel it is impossible to separate love and companionship from loss...The Friend is one of those rare novels that, in the end, makes your heart beat slower." —Los Angeles Review of Books

"A beautiful book … crammed with a world of insight into death, grief, art, and love." —Wall Street Journal

"A meditation on reading and writing, love and loss, The Friend is a work rich in literary allusions and anecdotes….With The Friend . . .  [Nunez's] found the perfect pitch….Nunez's prose is illuminated by a wit, warmth and wisdom all of her own. The Friend is a true delight: I genuinely fear I won't read a better novel this year." — The Financial Times

"A penetrating, moving meditation on loss, comfort, memory, what it means to be a writer today, and various forms of love and friendship... Nunez has a wry, withering wit." —NPR

"The book is an intimate, beautiful thing, deceptively slight at around 200 pages, but humming with insight… [an] artfully discursive meditation on friendship, love, death, solitude, canine companionship and the life of an aging writer in New York. Far from being heavy going, this novel, written as a letter to the late friend, is peppered with wry observations, particularly those of a writer stuck teaching undergraduates." –The Economist

"In this slim but pitch-perfect novel, a writer loses her best friend and mentor suddenly without explanation…Wry and moving, The Friend is a love story, a mania story, and a recovery story." —Vanity Fair

"A poignant reflection on loss and companionship." —Marie Claire

"[A] sneaky gut punch of a novel…a consummate example of the human-animal tale…The Friend's tone is dry, clear, direct—which is the surest way to carry off this sort of close-up study of anguish and attachment." —Harper's Magazine

"A wry riff on Rilke's idea of love as two solitudes that 'protect and border and greet each other.'"—Vogue

"With enormous heart and eloquence, Nunez explores cerebral responses to loss… The Friend exposes an extraordinary reserve of strength waiting to be found in storytelling and unexpected companionship." —Minneapolis Star-Tribune

"Often as funny as it is thoughtful, The Friend is an elegant meditation on grief, friendship, healing, and the bonds between humans and dogs." —Buzzfeed

"A serious book about a big sloppy dog, Nunez's seventh novel… displays the intellectual heft of her late friend's work, but also a distinctive sense of humor and narrative momentum." —Vulture

"A brilliant examination of the writer's life, literary friendship, mortality, bereavement, and our relationship to animals. The novel is not easily summarized; the true rewards of this reading experience are the crystalline prose… Readers will also savor the surprising shifts in narrative focus." —The Rumpus

"An elegant and darkly humorous meditation on grief and companionship, it's a great read — whether or not you're obsessed with canines." —Shondaland.com

"Sigrid Nunez's novel delivers an enthralling, emotional tale." —Paste Magazine

"The Friend is proof that what we lack is itself a vital part of life — and that loss can lead to meaningful connections found in unlikely places. Sometimes it can take an animal to make a person understand their own humanity. And sometimes a book as unexpected as The Friend can provide as much comfort as any canine companion." —B&N Review

"Quietly brilliant and darkly funny… [The Friend is] rigorous and stark, so elegant—so dismissive of conventional notions of plot—it hardly feels like fiction. Breathtaking both in pain and in beauty; a singular book." —Kirkus, starred review

"Riveting… This elegant novel explores both rich memories and day-to-day mundanity, reflecting the way that, especially in grief, the past is often more vibrant than the present." —Publishers Weekly

"Light, musing, curious, and somehow wonderfully sturdy." –Vivian Gornick for Bookforum

"Brilliant but informal, sad yet laugh-out-loud funny… This beautiful, spare, work will not disappoint." –Bookpage

"Nunez offers an often-hilarious, always-penetrating look at writing, grief, and the companionship of dogs." —Booklist

"The joys of this novel lie in Nunez's striking capacity to describe the world and its inhabitants, both human and animal. Nunez is a keen observer of behavior, and throughout the text she plants wonderful nuggets that immediately ring true yet still manage to be surprising." —Michigan Daily

"A slow, poignant meditation on grief, rife with pithy literary myths and quotations… Literature nerds, creative writing students, and dog lovers will find this work delightful. Recommended for literary fiction collections." —Library Journal 
 
"Nunez's story of a dog and his inadvertent caregiver is a darkly humorous and unsentimental tale of friendship, mourning, and solace."—Electric Lit

"The intensity and elegance of The Friend mean two things—you cannot put it down and you will cry. In a novel about loss and the loneliness of writing and imagination, Sigrid Nunez creates an irresistible tale of love and an unforgettable Great Dane. A beautiful, beautiful book—the most original canine love story since My Dog Tulip." —Cathleen Schine, bestselling author of They May Not Mean To, But They Do