Sounds Like Titanic: A Memoir (Paperback)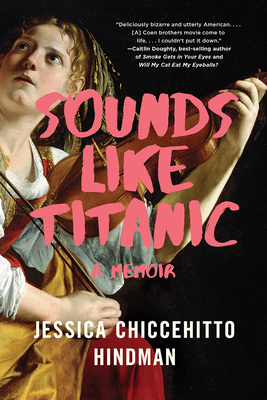 Staff Reviews
---
Bookseller: Tim
Title: Sounds Like Titanic
Comments:
This book feels like the a classical-music-version of Almost Famous, an on-tour-with-the-rock-band story with a great soundtrack. Even though "writing about music is like dancing about architecture,"* you can really feel the dance in this memoir. This story is a crazy dance that was so fun to read, and thought provoking, too. Hindman's beautiful prose describes a bizarre plot: Playing the violin for a traveling ensemble that secretly mimes along to a CD player, a detail which the audience never realizes.
I was truly fascinated by the cast of real life characters that are straight out of a Wes Anderson film. A successful Composer who has never heard Beethoven's Fifth. The sensitive mustachioed roadie who gets teary-eyed every time he hears the ensemble perform. The Russian classical violinist who only listens to techno in his car. And Jessica, the young woman in the big city fresh from Appalachia trying to make a living as a professional musician.
I love how weird the real world can be!
*credited to comedian-musician Martin Mull in 1979
— From
Tim's Past Picks - 2
Description
---
A Finalist for the 2019 National Book Critics Circle Award in Autobiography



"Deliciously bizarre and utterly American.…[A] Coen brothers movie come to life.…I couldn't put it down." —Caitlin Doughty, best-selling author of Smoke Gets in Your Eyes and Will My Cat Eat My Eyeballs?
Sounds Like Titanic tells the unforgettable story of how Jessica Chiccehitto Hindman became a fake violinist. Struggling to pay her college tuition, Hindman accepts a dream position in an award-winning ensemble that brings ready money. But the ensemble is a sham. When the group performs, the microphones are off while the music—which sounds suspiciously like the soundtrack to the movie Titanic—blares from a hidden CD player. Hindman, who toured with the ensemble and its peculiar Composer for four years, writes with unflinching candor and humor about her surreal and quietly devastating odyssey. Sounds Like Titanic is at once a singular coming-of-age memoir about the lengths to which one woman goes to make ends meet and an incisive articulation of modern anxieties about gender, class, and ambition.
About the Author
---
Jessica Chiccehitto Hindman has "performed" on PBS, QVC, and at concert halls worldwide. Her writing has appeared in the New York Times Magazine, McSweeney's, Brevity, and Hippocampus. She holds a BA in Middle Eastern studies and an MFA in creative nonfiction writing from Columbia University, and a PhD in English from the University of North Texas. She teaches creative writing at Northern Kentucky University and lives in Newport, Kentucky.
Praise For…
---
[An] outrageously funny, shrewdly meta memoir.
— O, The Oprah Magazine

Sardonic, moving.
— The New Yorker

A memoir with bite.
— Martha Anne Toll - NPR

Brave and captivating.
— Tucker Coombe - Los Angeles Review of Books

[A] most original memoir.… I salute Jessica Hindman for having shaped so well a remarkable piece of experience.
— Vivian Gornick, author of The Odd Woman and the City

Sounds Like Titanic… is the definition of an overdeliver.… On top of [Jessica Chiccehitto Hindman's] ability to mine unexpected resonances from a story, she writes marvelously lucid prose.… [A] rich, powerful book.

— Constance Grady - Vox

[A] timely, searing look at one of America's recent dips into the pool of post-truth… and a breathtaking breakdown of the hundreds of ways society tries—and largely succeeds—in breaking the spirits of young women without giving them the vocabulary to ask for help.
— Colorado Sun

It's difficult to write a funny, angry book. It's even harder to write a merciless, empathetic book. But here comes Jessica Chiccehitto Hindman, doing the impossible with a funny, angry, merciless, empathetic book that's not only a hugely entertaining memoir, but an insightful meditation on a?time in our nation's recent?history whose strange and ominous influence grows more apparent by the day.
— Tom Bissell, author of Apostle and coauthor of The Disaster Artist

Hindman is an emissary for a generation, repurposing its sarcasm and irony in a nuanced, humorous, and intelligent look at what it means to construct and consume fake realities in post-9/11 America.
— Angela Palm, winner of the Graywolf Press Nonfiction Prize for Riverine

An evocative portrait of America's literal and figurative landscapes, an incisive look at class and gender, and an examination of what authenticity means.
— Justin St. Germain, author of Son of a Gun