The Best Military Science Fiction of the 20th Century: Stories (Paperback)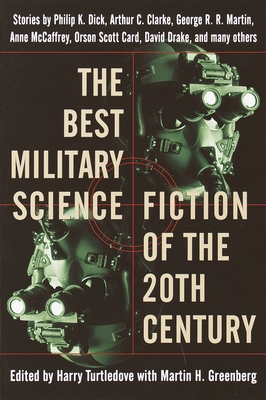 Description
---
Explosive and provocative battles fought across the boundaries of time and space—and on the frontiers of the human mind.

Science fiction's finest have yielded this definitive collection featuring stories of warfare, victory, conquest, heroism, and overwhelming odds. These are scenarios few have ever dared to contemplate, and they include:

"Superiority": Arthur C. Clarke presents an intergalactic war in which one side's own advanced weaponry may actually lead to its ultimate defeat.

"Dragonrider": A tale of Anne McCaffrey's Dragonriders of Pern, in which magic tips the scales of survival.

"Second Variety": Philip K. Dick, author of the short story that became the movie Blade Runner, reaches new heights of terror with his post-apocalyptic vision of the future.

"The Night of the Vampyres": A chilling ultimatum of atomic proportions begins a countdown to disaster in George R. R. Martin's gripping drama.

"Hero": Joe Haldeman's short story that led to his classic of interstellar combat, The Forever War.

"Ender's Game": The short story that gave birth to Orson Scott Card's masterpiece of military science fiction.

PLUS SEVEN MORE EPIC STORIES

"Among Thieves" by Poul Anderson
"Hangman" by David Drake
"The Last Article" by Harry Turtledove
"The Game of Rat and Dragon" by Cordwainer Smith
"To the Storming Gulf" by Gregory Benford
"Wolf Time" by Walter Jon Williams
"The Scapegoat" by C. J. Cherryh

Guaranteed to spark the imagination and thrill the soul, these thirteen science fiction gems cast a stark light on our dreams and our darkest fears—truly among the finest tales of the twentieth century.
About the Author
---
Harry Turtledove is the award-winning author of the alternate-history works The Man with the Iron Heart, The Guns of the South, and How Few Remain (winner of the Sidewise Award for Best Novel); the Hot War books: Bombs Away, Fallout, and Armistice; the War That Came Early novels: Hitler's War, West and East, The Big Switch, Coup d'Etat, Two Fronts, and Last Orders; the Worldwar saga: In the Balance, Tilting the Balance, Upsetting the Balance, and Striking the Balance; the Colonization books: Second Contact, Down to Earth, and Aftershocks; the Great War epics: American Front, Walk in Hell, and Breakthroughs; the American Empire novels: Blood and Iron, The Center Cannot Hold, and Victorious Opposition; and the Settling Accounts series: Return Engagement, Drive to the East, The Grapple, and In at the Death. Turtledove is married to fellow novelist Laura Frankos. They have three daughters—Alison, Rachel, and Rebecca—and two granddaughters, Cordelia Turtledove Katayanagi and Phoebe Quinn Turtledove Katayanagi.

In 1995 Martin H. Greenberg was honored by the Mystery Writers of America with the Ellery Queen Award for lifetime achievement in mystery editing. He is also the recipient of two Anthony Awards. Mystery Scene magazine called him "the best mystery anthologist since Ellery Queen." He compiled more than 1,000 anthologies and was the president of TEKNO Books. Greenberg passed away in 2011.