The Expectations (Paperback)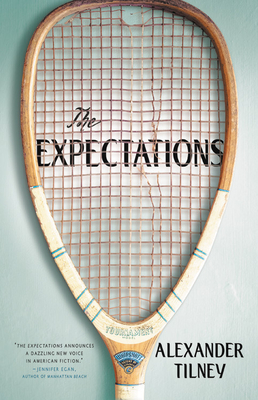 Description
---
From "a dazzling new voice in American fiction" (Jennifer Egan), a finely drawn portrait of American privilege and a subtle exploration of class, race, and tradition.
St. James is an exclusive New England boarding school known for grooming generations of leaders. Ben Weeks is a true insider -- his ancestors helped found St. James, his older brother taught him all the slang, and he's just won a national championship in squash.
But after fourteen long years of waiting, Ben arrives at school only to find that the reality of St. James doesn't quite match up with his imaginings. At the same time, his new roommate, Ahmed Al-Khaled, the son of a fabulously wealthy Emirati sheik, can't navigate the unspoken rules of New England blue bloods. Even as Ben and Ahmed struggle to prove themselves in the place they have revered for so long, each of them must face losing it forever.
Tender, sharp, and evocative, The Expectations is a compelling novel about the pain and treachery of adolescence, and the difficulty -- wherever one finds oneself -- of truly belonging.
About the Author
---
Alexander Tilney received an MFA from Warren Wilson College and has been a fellow at the MacDowell Colony. His writing has appeared in the Southwest Review, Gelf Magazine, and the Journal of The Office for Creative Research. He lives in Brooklyn with his partner, theater artist Sarah Hughes. The Expectations is his first novel.
Praise For…
---
"Alexander Tilney applies supple, panoramic prose to the deep interior of an exclusive Northeastern prep school, with arresting results: at once anthropological and visceral,
The Expectations
provides an authoritative glimpse into a rarefied world of privilege--and announces a dazzling new voice in American fiction."—
Jennifer Egan, author of Manhattan Beach
"This humorous, powerful, and thoughtful debut novel examines what it means to come of age amidst great privilege-and serves as a gimlet-eyed reminder of all the things money can never buy."
—
Town and Country
"An elegiac début...Tilney's book eschews the trope of the alienated narrator...The tension of the book flows from the fact that Ben's status and advantages have prepared him for a version of adolescence that no reality can live up to."
—
Katy Waldman, The New Yorker
"This beautifully written coming-of-age novel is a subtle exploration of WASP culture and elite institutions: what it means to hail from them, the lengths we'll go to protect them, and what it means when they can't keep up with the evolution of society."
—
Goop
"Riveting. A deeply resonant, brilliantly nuanced meditation on privilege, social ambition, and the folly (and cruelty) of youth. It is also a terrific read-funny, heartbreaking, and completely transporting from start to finish. A provocative and powerful debut."
—
Kate Walbert, author of His Favorites
"
The Expectations
is story of how fraught and chaotic and exhilarating it is on the cusp of adulthood while living among the wealthy, and the cruel. Tender but not sentimental, this novel marks the debut of a genuine talent, one I hope to keep reading for a very long time."—
Victor LaValle, author of The Changeling
"Smart, shrewdly observed, and highly readable...The novel paints a compassionate portrait of a confused young man groping for maturity...Tilney deftly limns the unchanging eponymous expectations: that students will graduate to the Ivy League and real-world leadership...But Tilney also nails the changing social climate of the mid-1990s."
—
Kirkus Reviews
"A sensitive and perceptive debut...Writing primarily from Ben's point of view, Tilney also alights for a sentence or two at a time in the minds of those who surround him, which adds depth to the narrative."
—
Margaret Quamme, Booklist
"Tilney's memorable boarding school novel hits the mark...A rewarding debut... The author effectively touches on matters of class, societal pressures, and what it really means to be cool."
—
Publishers Weekly
"
The Expectations
portrays all the intrigue of adolescence--sexual longing, competitive aspiration, and betrayal--while illuminating the most poignant of growing-up realities: It's scary to figure out who you are, and even scarier when you have no idea. Tilney expertly evokes the human yearning to be recognized as Somebody, even when you fear you are nobody."—
Katharine Dion, author of The Dependents
"Beautifully rendered, sharply observed, and intensely moving. Writing with uncommon acuity and generosity, Tilney pierces the heart of a boy, exposing it without betraying it.
The Expectations
is an unsentimental novel about adolescence, written for adults, to be read not so that we might remember our blundering younger selves but that we might forgive them. A gift of a novel."—
Susan Rieger, author of The Heirs