Emotionally Healthy Spirituality Course Workbook: It's Impossible to Be Spiritually Mature, While Remaining Emotionally Immature (Paperback)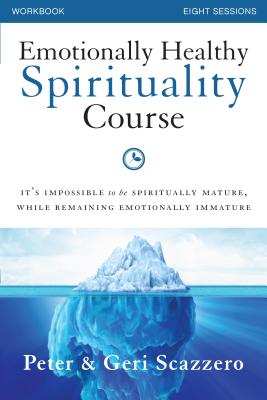 $10.99
OUT-OF-PRINT & UNAVAILABLE! (But email us to search for a used copy.)
Description
---
For those desiring to take steps in their Christian life and discipleship, to break free from bondage to the past and experience healing, Emotional Healthy Spirituality is an eight-session video-based Bible study on the integration of emotional health and contemplative spirituality. Many sincere followers of Christ, followers who are really passionate for God, join a church, participate weekly in a small group, serve with their gifts, and who are considered "mature," remain stuck at a level of spiritual immaturity--especially when faced with interpersonal conflicts and crises. The Emotionally Healthy Spirituality video study and companion study guide offer a strategy for discipleship that address this void, offering powerful pathways to transformation that will help people mature into a faith filled with authenticity and a profound love for God.?
The eight sessions include:
The Problem of Emotionally Unhealthy Spirituality
Know Yourself that You May Know God
Going Back in Order to Go Forward
Journey through the Wall
Enlarge Your Soul through Grief and Loss
Discover the Rhythms of the Daily Office and Sabbath
Grow into an Emotionally Healthy Adult
Go to the Next Step to Develop a "Rule of Life"
About the Author
---
Peter Scazzero is the founder of New Life Fellowship Church in Queens, New York City, a large, multiracial church with more than seventy-three countries represented. After serving as senior pastor for twenty-six years, Pete now serves as a teaching pastor/pastor at large. He is the author of two best-selling books-The Emotionally Healthy Church and Emotionally Healthy Spirituality. He is also the author of The EHS Course and Emotionally Healthy Spirituality Day by Day. Pete and his wife, Geri, are the founders of Emotionally Healthy Spirituality, a groundbreaking ministry that equips churches in a deep, beneath-the-surface spiritual formation paradigm that integrates emotional health and contemplative spirituality. They have four lovely daughters. For more information, visit emotionallyhealthy.org, or connect with Pete on Twitter @petescazzero.