Free Enterprise: An American History (Hardcover)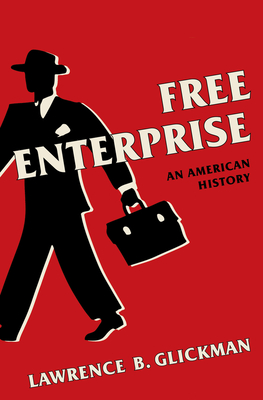 Description
---
An incisive look at the intellectual and cultural history of free enterprise and its influence on American politics
 
Throughout the twentieth century, "free enterprise" has been a contested keyword in American politics, and the cornerstone of a conservative philosophy that seeks to limit government involvement into economic matters. Lawrence B. Glickman shows how the idea first gained traction in American discourse and was championed by opponents of the New Deal. Those politicians, believing free enterprise to be a fundamental American value, held it up as an antidote to a liberalism that they maintained would lead toward totalitarian statism. Tracing the use of the concept of free enterprise, Glickman shows how it has both constrained and transformed political dialogue. He presents a fascinating look into the complex history, and marketing, of an idea that forms the linchpin of the contemporary opposition to government regulation, taxation, and programs such as Medicare.
About the Author
---
Lawrence B. Glickman is Stephen and Evalyn Milman Professor of American Studies in the department of history at Cornell University. He has published several books, including Buying Power: A History of Consumer Activism in America.
Praise For…
---
"[Glickman] effectively highlights the ways in which the future of free enterprise was, to its supporters, always under threat."—Matthew Rees, Wall Street Journal

"As Glickman's sweeping and highly readable survey shows, the idea of an idea about free enterprise has captivated and motivated opponents of the New Deal for the better part of a century."—Eric Rauchway, Reviews in American History

"Glickman's thoughtful analysis is a useful reminder that, in politics, struggle—including the struggle over ideas—is a constant."—Nicole M. Aschoff, Jacobin 

"Grand in its ambitions and sharp in its execution . . . Free Enterprise makes an important contribution."—Glory M. Liu, New Rambler Review 

"A remarkable work of scholarship. It reflects a deep immersion in a wide range of sources that have rarely if ever been brought together. It reframes debates about the origins of conservatism in a very important and original way."—Kimberly Phillips-Fein, New York University

"Resolutely, adeptly, and effectively, Glickman tracks how the meanings and uses of "free enterprise" evolved into a "fighting slogan" on behalf of business interests and against the commonweal. By showing how conservatives constructed this rhetorical tool for attacking taxes and regulation, he unravels their claims that long-standing American traditions vindicate the modern uses of "free enterprise."—Pamela Laird, University of Colorado Denver

"In this sweeping intellectual and cultural history, Lawrence Glickman proves a sure guide to the economically vague yet politically talismanic meaning of the phrase 'free enterprise.' He demonstrates that the most enduring features of American business conservatism have long expressed themselves through this maddingly mythic construction."—Nelson Lichtenstein, author of A Contest of Ideas: Capital, Politics, and Labor

"In an age of political fakery, nothing has surpassed the fake populism that has roiled the American Right. Lawrence Glickman's brilliant book traces its history to the big-business reactionaries of the 1930s who seized upon the slogan 'free enterprise' and turned it into a credo to attack New Deal reform. A failure then, it has succeeded wildly since -- a crucial story of our time that Glickman tells with scholarly authority and literary grace."—Sean Wilentz, author of The Age of Reagan: A History. 1974-2008

"Today's common sense is the result of yesterday's political and intellectual battles. Lawrence Glickman offers an invaluable excavation of how the idea of 'free enterprise' helped legitimize and accelerate the rise of business power, the attacks on government, and the opposition to racial equity. This is essential reading for understanding the current crises of inequality, democracy, and corporate power—and for imagining a new more inclusive liberalism for the 21st century."—K. Sabeel Rahman, President of Demos